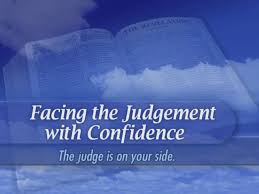 Scripture: Hebrews 9: [27] Just as man is destined to die once, and after that to face judgment,
Observation: I tried to die six other times in the past by taking my own life, but that wasn't God's plan. He has given me the opportunity to fulfill my purpose and die when He desires me to come home. Now my judgment is different, before I was destined to hell, now by my Savior's love and sacrifice destined to heaven. I have an opportunity now to fulfill my purpose serving God until my predestined time comes.
Application: To take the rest of my life in service to God. To live each day in thanksgiving and honor to God. To fulfill the purpose I have here. Take each day at a time, not knowing when my last moment on earth will be and to be ready for my judgment day.
Prayer: Dear Lord thank you for saving me and blessing me with this life I have now. Guide me to serve, to fulfill the purpose you have created me for that I will see you and may hear, "well done good and faithful servant."