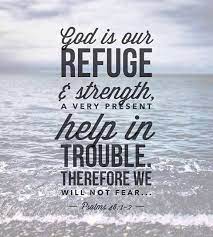 Scripture Ruth 2:12 The LORD repay your work, and a full reward be given you by the LORD God of Israel, under whose wings you have come for refuge."
Observation: The word tells us we are to do good works and bear fruit and we will be rewarded for our obedience. Boaz is telling Ruth the same thing in his blessing to her. Boaz seems to be a humble man since he is wealthy but never said that she found refuge under his protection, but under God's. God used Boaz as His wing of refuge, He but this situation together to bring about His plan for their lives. Boaz was faithful and grateful to God and appeared to live a life that honors God and Ruth was doing the same, taking care of her mother-in-law above her own needs and God is rewarding their work and obedience.
Application: I shouldn't fear as much as I do as a matter of fact I shouldn't fear at all, unless I'm not seeking shelter under God's wing. If I'm doing what God calls me to do no matter what might come up I have the comfort of knowing I'm under the refuge of God's protection. Even on to death I will be rewarded for the good works that I have done. The only rewards that I earn are the good works I do unto the Lord and not myself so I need to be close to God so that I will know what to do.
Prayer: My Lord I need you more than anything and I want to please you by doing the things you call me to do. I get so distracted in this world and lose sight of what I should be doing. Keep me under your wing of protection and speak to me and show me the things you want of me. I'm here only as your servant, command me on what to do. I love you Lord.