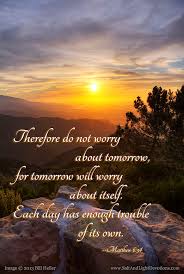 Scripture Job 10:11 Clothe me with skin and flesh, And knit me together with bones and sinews?
Observation: I can't understand how people can believe in evolution or the Big Bang Theory. We are so unbelievably made and we have feelings, spirits, emotions and thoughts that all point to a creator. We forget at times that we are a creation of God and we worry placing heavy burdens on ourselves that we can't carry. It would help us so much to realize that God created each one of us and each one of us has a purpose given to us. We are never alone our creator is with us and if we have any questions about our lives the best source to go to is our Maker.
Application: I have been having such a difficult time letting go of a situation I'm having at work. My pride and anxiety are going to drive me insane. I feel as if I'm alone with this problem and in my heart I know that I'm not. I don't know why I'm having such a difficult time in trusting my Lord, but I can't seem to let go. I need to trust completely and live a day at a time instead of reliving this imagined conclusion. I'm here to honor God and this is not the way to do it. I need to let go of this situation and trust that my Lord will guide me, as He as always does.
Prayer: Dear Lord forgive this servant of yours. Please place on my heart your love and give me peace. Remind me that you have made me and have never let go and that you are in control of everything. I know my thoughts have not been honoring lately and I need to draw nearer to you. Please hold me close and speak to me and command me in what you desire me to do. I love and trust in you.