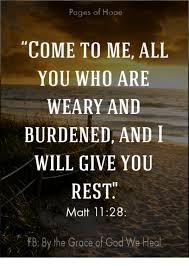 Scripture: Matthew 11: 28 "Come to me, all you who are weary and burdened, and I will give you rest.
Observation: That is me wearied and burdened because of the way I Choose to live this life. I worry about so many things even though my God tells me not to. I'm burdened because I choose to fill my life with anxiety instead of trusting my Lord has he directs me. I do everything the opposite of how God directs me and I wonder why I have no peace.
Application: All I need to do is come to him and obey him. Peace rests in God not in me and I need to free myself of the bondage of living this life my way and trust in my God and do as he calls me to do.
Prayer: Dear Lord help me to obey you each day. Direct my path and guide me through this life in a way that it will honor you. I'm here to serve you only show me how to be obedient in that.