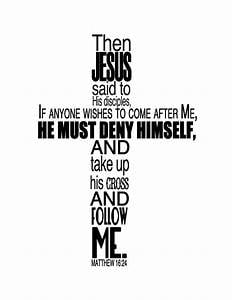 Scripture: Mark 8:34 Then he called the crowd to him along with his disciples and said: "If anyone would come after me, he must deny himself and take up his cross and follow me.
Observation: I spent most of my life thinking of me and my needs. Denying myself will be the work of the Holy Spirit. To pick up my cross and focus on Jesus and to trust in him completely no matter what might happen. This must happen each day.
Application: I need to live my life for my God and no one else. I need to submit to his will in all situations and follow his desires for my life. When the going gets rough I can' take my eyes of my Lord I must then follow even closer.
Prayer: Dear God I thank you for guiding me and for your patience. I ask that you fill me with the Holy Spirit and show me how to follow you with all of my heart and become the man you want me to be.