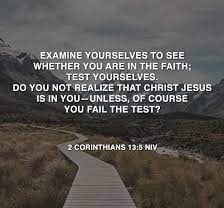 Scripture: 2 Corinthians 13:5 Examine yourselves to see whether you are in the faith; test yourselves. Do you not realize that Christ Jesus is in you–unless, of course, you fail the test?
Observation: I don't stop often enough to see where I stand in the course of a day. Am I in faith or just so involved with my surroundings I forget about my God. Christ is in me but if I don't stop to notice I forget. Almost all of my T-shirts are Christian shirts and I'll pass by someone and they will tell me they like my shirt and I'll have to stop and look at it to see which one I'm wearing. That's like my life if someone is noticing the way I act I need to look at myself to see If I'm wearing Christ or my own sinful nature.
Application: I need to have Christ on every day. The other day I said something terrible to someone and never apologized. That person doesn't know me very well and I know He didn't see Christ in me, because I wasn't wearing His love. I need to know that Christ is in me and be proud that I'm His child. Others need to see that in my life and want what Christ as given me.
Prayer: Dear Lord forgive me for ignoring you so often in my life. Help me wake up each morning with you and be with you all day long. May I be used as a light to this world and that light reflects you.