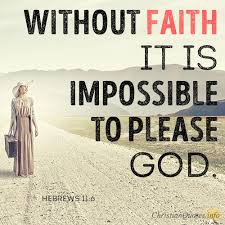 Living By Faith
Scripture: Romans 1:[17] For in the gospel a righteousness from God is revealed, a righteousness that is by faith from first to last, just as it is written: "The righteous will live by faith."
Observation: Do I live by faith? I wish I did. Today God has asked me to set up a table at Oceanside Pier to pray with those who need prayer. I will go, but I'm afraid and it is only due to the lack of faith I have. God is with me and I know this is His will so I should be full of joy at the chance to honor Him.
Application: I think and worry so much for no reason and it is all do to the lack of faith I have. I need to look at each day the way God has intended it to be and search for ways to do His will. Today is an opportunity to honor God and fulfill the purpose I have been created for.
Prayer: Dear Lord help me this day and give me courage. Increase my faith and show me favor today that I will be and do what you are calling me to do. Keep my eyes open and let me see what you see.