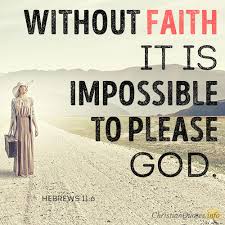 Does My Faith Encourage?
Scripture: 1 Thessalonians 3: [7] Therefore, brothers, in all our distress and persecution we were encouraged about you because of your faith.
Observation: Does my faith encourage others? I believe there are moments that my faith does, but for the most part I talk about troubles I'm having or anger I'm feeling which is not faith. Yesterday I talked to someone about when we lost our house because I lost my job. I told her we weren't worried there must be a reason for it and that God would get us through. Then I told her how He blessed us with a beautiful home that we could afford and how He was always there. That faith helped someone knowing that God wants to work the good in all things.
Application: God has given me every reason to have a great faith, but I choose not to most of the time. I need to feed my faith and look at how God has already worked in my life. I need to share that faith with others and encourage them the same way God encourages me so that they can see God in their situation. I'm here to be a light I need to shine so much brighter.
Prayer: Dear Lord increase my faith, strengthen me in all that I do and draw me near. Use me whenever you desire and guide me through this life touching the hearts of others as I go through.