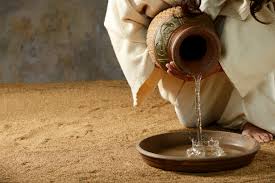 I'll Be A Servant of God
Scripture: Revelations 22: [3] No longer will there be any curse. The throne of God and of the Lamb will be in the city, and his servants will serve him.
Observation: Before becoming a Christian I would have thought being a servant would be the last thing I wanted to do, but now knowing my Lord and all He has done for me I can't think of anything else I would rather be than His servant. Just think I'll be with God forever and that won't be enough time to tell Him how much I love Him.
Application: I need to start practicing my serving now by serving His children in a way that would honor my Master. Jesus came and gave me an example on how to serve and give of myself and that is what I want to do. I want to wash the feet of His disciples and serve others in my Lord's name.
Prayer: My Master and my God. I am humbled that I could be your servant and I want to serve you completely. Help me each day get better on serving you and others and humble me before your children. I love you and desire with all of my heart to be the best servant I can be for you.