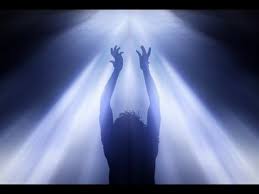 Only to the Lord
Scripture 2 Kings 5:17 So Naaman said, "Then, if not, please let your servant be given two mule-loads of earth; for your servant will no longer offer either burnt offering or sacrifice to other gods, but to the LORD.
Observation: When people's eyes are open to the majesty of the Lord they can see that only He is God and deserves all of our praise. We have so many gods in our lives, money, work, people, possession and so on, but there is only one that deserves our undivided worship and that is our Lord. Jesus came into my life and proved to me that He is my Lord and I'm not to have any other God or thing above Him. My Lord and my God deserves all that I am all of the time.
Application: Tonight I have an opportunity to share about Heaven with my church family and to show our God is the only thing in our lives worthy of worship. I need to show others about our magnificent Lord and that He needs to be on the throne of our lives. I need to set that example in my life, that others may see my Lord through the way I live my life. God deserves all that I have and I need to give that to Him.
Prayer: Thank you Lord for showing me your love, grace, mercy and power. Thank you for always being there for me and that your love is never ending. Be with me tonight and speak through your servant and show all that attend that you are the only thing in our life worthy of worship.